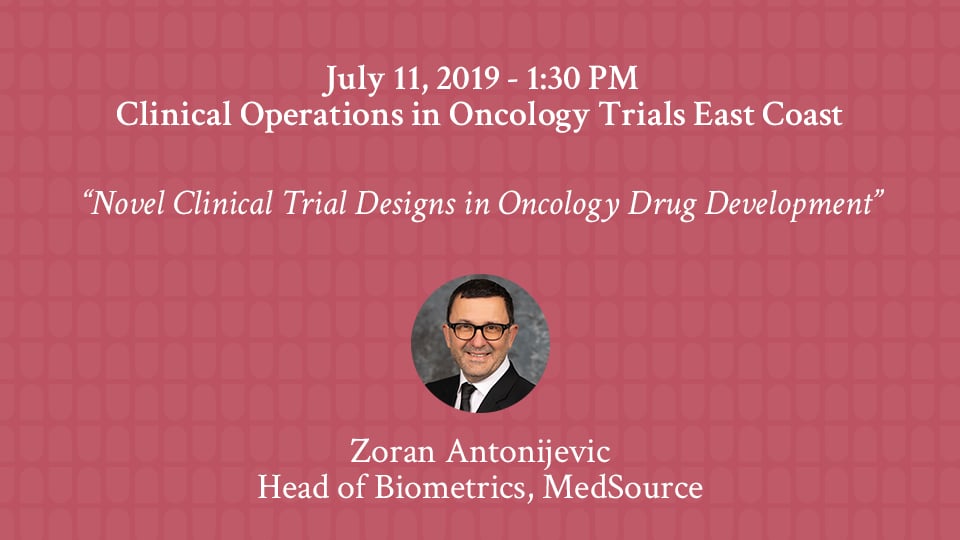 Join MedSource in Burlingame, California from July 10- 11 at the Clinical Operations in Oncology Trials East Coast 2019 conference. Head of Biometrics, Zoran Antonijevic, will be presenting, "Novel Clinical Trial Designs in Oncology Drug Development" on July 11 at 1:39 PM. Attend Zorans's presentation at the conference to learn about:
Importance of incorporating novel, more efficient designs in Oncology drug development
Master Protocols for more efficient early-stage development
Selected Phase 3 Adaptive Designs that reduce costs/timeline and/or improve the probability of success
Head of Biometrics at MedSource, Zoran Antonijevic has held executive positions in Pharmaceutical Companies and CROs and has designed more than 100 clinical trials in numerous therapeutic areas, many of which included adaptive designs. Zoran is a long-time Chair and leader of the DIA Adaptive Design Scientific Working Group. He has authored numerous papers and scientific presentations and was the editor of books "Optimization of Pharmaceutical R&D Programs and Portfolios" and "Platform Trials in Drug Development".
Meet MedSource at the conference to learn about our strong expertise in oncology, neurology/CNS, rare/orphan diseases and other areas of therapeutic areas. We have participated in nearly 800 clinical trials globally. Of our therapeutically focused studies, more than 60% of those clinical trials were in oncology. From our founding as an oncology-focused CRO to holding one of the industry's seasoned oncology clinical teams today, we are trusted to run challenging oncology trials. Schedule a meeting with MedSource at the conference to learn more by submitting the form below.