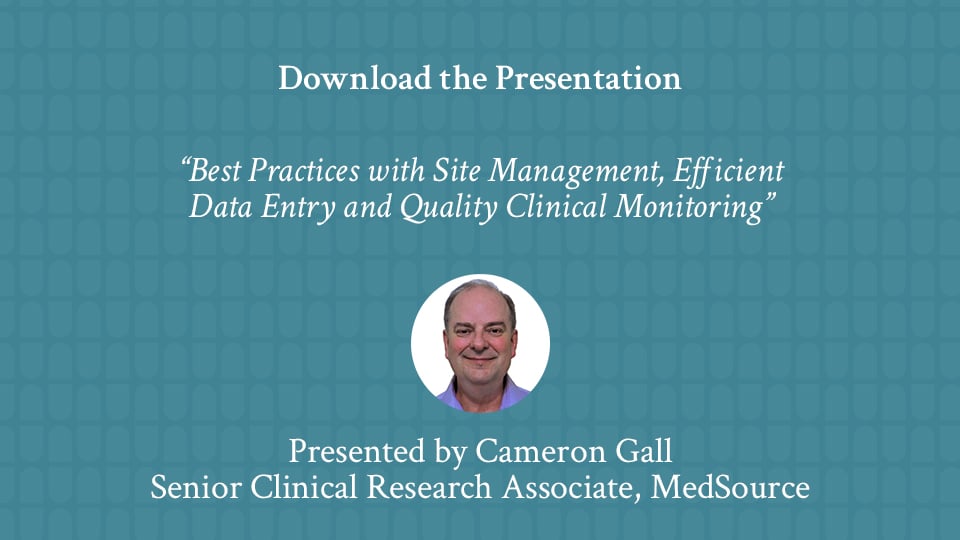 MedSource Senior Clinical Research Associate, Cameron Gall, presented, "Best Practices with Site Management, Efficient Data Entry and Quality Clinical Monitoring" at the 2019 Clinical Operations in Oncology Trials West Coast conference hosted by Arena International Events Group in Burlingame, California. During his presentation, Cameron discussed:
Management of the study site beginning at the first study visit
Making sure current versions of all documents are being used at the study site
CRF Guidelines
Study site staff responses to expert CRAs
Data management metrics reports
Cameron is a clinical research professional with 29 years of industry experience, including working with sponsor and CRO companies. He spent 8 years as a clinical trials manager and project manager of clinical studies based in the USA and internationally. Therapeutic area focus has been oncology for the past 6 years. Prior to that, he spent 7 years working in Women's Health. Other areas included cardiovascular, infectious disease, and organ transplantation. Cameron has managed multi-disciplinary project teams across the entire spectrum of clinical research. He participated and managed functional areas for the successful FDA submission and approval of new medications including Tacrolimus, Delavirdine, Pravastatin, and Fosinopril. His current position as Senior CRA allows him to focus on his primary professional interest in facilitating the delivery of quality data for important ground-breaking therapeutic oncology projects.